A GRIST MILL WITH THE MOST ADVANCED
EQUIPMENT IN THE CZECH REPUBLIC
TECHNOLOGY
WE ARE THE MOST ADVANCED GRIST MILL IN THE CZECH REPUBLIC, PRODUCING 150,000 TONNES OF FLOUR ANNUALLY; THIS IS EQUIVALENT TO ABOUT 14% OF THE INDUSTRIAL PRODUCTION OF FLOUR IN THE COUNTRY. ALL OF THE MILL TECHNOLOGY HAS BEEN SUPPLIED BY BÜHLER.
MILL 1
PRODUCES THE ENTIRE RANGE OF OUR MILL PRODUCTS.
FLOURS CAN BE TREATED TO SUIT THE CUSTOMER'S REQUIREMENTS.
PRE-MILLING TREATMENT IS PROVIDED BY BÜHLER'S SORTEX,
A STATE-OF-THE-ART CLEANING MACHINE THAT SORTS OUT FOREIGN MATTER AND MOULDY KERNELS, which do not meet strict hygienic or quality criteria.
DAILY PRODUCTION
CAPACITY
MILL 2
THE MOST ADVANCED MILL TECHNOLOGY SUPPLIED BY BÜHLER IS INSTALLED IN THIS MILL.
PRE-MILLING TREATMENT IS PROVIDED BY BÜHLER'S SORTEX,
A STATE-OF-THE-ART CLEANING MACHINE THAT SORTS OUT FOREIGN MATTER AND MOULDY KERNELS, which do not meet strict hygienic or quality criteria.
DAILY PRODUCTION
CAPACITY
MILL 3
THIS IS THE MOST ADVANCED, FULLY AUTOMATED MILLING TECHNOLOGY FOR PROCESSING CEREAL GRAINS AND PSEUDOCEREALS, WHICH ENABLES THE PRODUCTION OF VERY FINE FLOURS, INCLUDING WHOLEGRAIN FLOURS WITH A GRANULE SIZE OF 160 MICROMETRES.
WE PRODUCE FINE-GROUND WHOLEGRAIN FLOURS FROM SPELT, RYE, BUCKWHEAT, OAT, RICE, BARLEY AND OTHER CROPS.
WE ALSO SUPPLY VERY FINELY GROUND WHEAT FIBRE.
THIS GRANULATION OF FINE-GROUND WHOLEGRAIN FLOURS TO THE SAME MILLING PARAMETERS AS USED FOR FINE-GROUND FLOUR GUARANTEES BETTER NUTRITIONAL QUALITIES AND IMPROVED WATER-BINDING CAPACITY, THUS OVERALL ENHANCED BAKING PROPERTIES AND LONGER SHELF-LIFE FOR THE END CUSTOMER.
THE PRE-MILLING TREATMENT IS PROVIDED BY BÜHLER'S SORTEX,
A STATE-OF-THE-ART GRAIN CLEANING MACHINE THAT CAN SORT OUT FOREIGN MATTER AND MOULDY KERNELS, which do not meet strict hygienic or quality criteria.
THE MILLING LINE ALSO INCLUDES THE MOST MODERN SIEVING CHECK AND A STERILISER FOR THE REMOVAL OF UNWANTED FOREIGN FRAGMENTS AND INSECTS.
DAILY PRODUCTION
CAPACITY
PACKING TECHNOLOGIES
WE HAVE PACKING TECHNOLOGIES ALLOWING THE PACKAGING OF FLOUR INTO 15-25 KG BAGS.
In the near future we are planning on opening a fully automatic packaging LINE, PRODUCING 0.5KG AND 1KG PACKAGES AT A MAXIMUM CAPACITY OF 50 TONS PER 24 HOURS.
CERTIFICATES
OUR CERTIFICATES ARE A GUARANTEE OF OUR PRODUCTION QUALITY.
QUALITY
WE HAVE OUR OWN QUALITY CONTROL LAB.
OUR TECHNOLOGY DETERMINES THE PRIMARY PARAMETERS OF FLOURS SUCH AS moisture and the NITROGEN SUBSTANCES content. MEASURING PARAMETERS SUCH AS DAMAGE TO STARCH AFTER MILLING AND determination of baking dispositions ARE A STANDARD PRACTICE.
LABORATORY EQUIPMENT
CHOPIN
ALVEOLAB, ALVEOGRAPH, CONSISTOGRAPH A SDMATIC
EXTENSOGRAPH AND FARINOGRAPH
DRYING SCALE TO MEASURE MOISTURE
WE MEASURE THE FALLING NUMBER AND CAN DETERMINE
THE VOMITOXIN LEVEL (DON).
LOGISTICS
WE DELIVER OUR FLOUR TO OUR CUSTOMERS' PRODUCTION PLANTS, WAREHOUSES AND GRANARIES. DELIVERY IS POSSIBLE THROUGHOUT THE CZECH REPUBLIC AND ABROAD.
BULK FLOURS
WE DELIVER GOODS WITH OUR EIGHT MAN/MERCEDES TANKERS.
A SEMI-TRAILER CAN ALSO BE ATTACHED TO ANY OF THESE TRUCKS.
PACKAGED FLOURS
PACKAGED FLOURS ARE TRANSPORTED USING BOX TRUCKS WITH A CAPACITY OF 9 TONNES. THE SURFACE OF THE LOADING AREA COMPLIES WITH TRANSPORTATION HEALTH STANDARDS.
Basic products
WITH THE LATEST TECHNOLOGY, OUR GRIST MILLS PRODUCE FLOURS OF THE BEST QUALITY FOR THE LARGEST PRODUCERS OF BAKERY PRODUCTS IN THE CZECH REPUBLIC AND EUROPE.
WHEAT FLOUR
SPECIAL BAKER'S FINE-GROUND
FINE-GROUND PASTRY
FINE-GROUND BREAD
SUPERIOR-QUALITY MEDIUM-GROUND
WHOLEGRAIN
BUCKWHEAT FLOUR
FINE-GROUND
OAT FLOUR
WHOLEGRAIN
RICE FLOUR
FINE-GROUND
RYE FLOUR
FINE-GROUND BREAD
WHOLEGRAIN
WHEAT PRODUCTS
THERMOSTABLE FIBROUS MATERIAL
BRAN FOR A HEALTHY LIFESTYLE
FEEDSTUFFS
FEED FLOUR
BRAN
WE CAN PRODUCE FLOUR FROM OTHER TYPES OF CEREALS ACCORDING TO YOUR INDIVIDUAL NEEDS.
SUPPLIERS
OUR SUPPLIERS ARE PRIMARILY FARMERS AND CO-OPERATIVES FROM THE LOCAL AREA, BUT WE ALSO BUY GRAIN FROM OTHER REGIONS OF THE CZECH REPUBLIC. PURCHASING CEREAL GRAINS IS CONTRACT-BASED AND SUPPORTED BY THE RESULTS OF LABORATORY TESTING. TYPICALLY, CUSTOMERS DELIVER THEIR CEREAL GRAINS USING THEIR OWN MEANS OF TRANSPORTATION; THE PERNER MILL ALSO PROVIDES COLLECTION WITH ITS OWN VEHICLES. WE PURCHASE A WIDE RANGE OF CEREAL GRAINS.
FINE-GROUND WHOLEGRAIN FLOURS
THE NEW SPECIAL GRINDING EQUIPMENT FOR GRINDING WHOLEGRAIN FLOURS IS SUBSTANTIALLY DIFFERENT FROM COMMONLY EMPLOYED PROCEDURES. THE MAIN ADVANTAGE OF THE ABOVE-MENTIONED INNOVATIVE TECHNOLOGY IS A GENTLER GRINDING PROCESS THAT RESULTS IN BOTH A FLOUR PARTICLE SIZE AND, IN PARTICULAR, BRAN-DERIVED PARTICLES THAT ARE COMPARABLE TO THOSE OF FINE-GROUND FLOURS. THIS NEWLY APPLIED METHOD FOR PRODUCING WHOLEGRAIN FLOURS IN A SPECIAL FLOUR-MILL RELIES ON THE USE OF A HIGH-SPEED GRINDING ROLLER WITH VERTICAL AXIS ROTATION THAT HELPS TO MINIMISE ANY MECHANICAL AND THERMAL DAMAGE TO THE INTERNAL STRUCTURE OF THE FLOUR. WHOLEGRAIN FLOURS THAT ARE GROUND USING THIS TECHNOLOGY HAVE REMARKABLE TECHNOLOGICAL AND SENSORY PROPERTIES, A HIGH CONTENT OF FIBROUS MATERIAL AND A HIGHER CONTENT OF BETA-GLUCANS. THANKS TO THE GENTLE GRINDING PROCESS, NO SIGNIFICANT DAMAGE OCCURS TO THE STARCH. THE FINE SIZE OF THE WHOLEGRAIN FLOUR PARTICLES ENSURES A LARGER ACTIVE AND REACTIVE SURFACE AREA FOR THE FLOUR, WHICH HELPS TO INCREASE THE RATE OF REACTION FOR CERTAIN PHYSICAL REACTIONS, SUCH AS WATER ABSORPTION CAPACITY.
WHEAT FLOUR
WHOLEGRAIN FINE-GROUND
BUCKWHEAT FLOUR
WHOLEGRAIN FINE-GROUND
OAT FLOUR
WHOLEGRAIN FINE-GROUND
BARLEY FLOUR
WHOLEGRAIN FINE-GROUND
RYE FLOUR
WHOLEGRAIN FINE-GROUND
SPELT FLOUR
WHOLEGRAIN FINE-GROUND
UPON SPECIAL REQUEST, WE CAN ALSO PRODUCE WHOLEGRAIN FINE-GROUND FLOURS FROM OTHER CEREALS AND PSEUDOCEREALS.
TECHNOLOGICAL BENEFITS:
PARTICLE SIZE COMPARABLE TO THAT OF FINE-GROUND FLOURS
WATER ABSORPTION CAPACITY EXCEEDS 70%
A VERY GENTLE GRINDING PROCESS
MINIMAL DAMAGE TO AMYLUM GRAINS AND FLOUR STRUCTURE
PERFECT MECHANICAL PROCESSING
LARGER ACTIVE AND REACTIVE SURFACE AREA FOR THE FLOUR
ADVANTAGES OF THE FINAL PRODUCT:
LARGER VOLUME AND FLOUR EXTRACTION
LONGER DURABILITY AND FRESHNESS
BETTER SENSORY PROPERTIES
IMPROVED NUTRITION VALUES
LOWER GLYCEMIC INDEX
SUPPLIERS
OUR SUPPLIERS ARE PREDOMINANTLY LOCAL FARMERS AND AGRICULTURAL COOPERATIVES. IN ADDITION, WE PURCHASE CEREALS FROM OTHER LOCATIONS IN THE CZECH REPUBLIC. THE PURCHASE OF CEREALS IS CONTRACTED BASED ON THE RESULTS OF LABORATORY TESTS. CUSTOMERS GENERALLY SUPPLY GRAIN BY THEIR OWN MEANS OF TRANSPORT. IN ADDITION, PERNER MILL ENSURES TRANSPORT BY ITS OWN FLEET OF DELIVERY TRUCKS. WE PURCHASE A WIDE RANGE OF CEREAL VARIETIES
RETAIL
YOU CAN BUY FRESHLY GROUND FLOUR FROM THE PERNER MILL
DIRECTLY FROM US.
FAMILY FLOUR PACK (15 KG)
WHEAT FLOUR, FINE-GROUND
SPECIAL FLOUR (2 KG)
BUCKWHEAT FLOUR

OPENING HOURS
BUSINESS DAYS
6 AM TO 2:30 PM

LOCATION
MLÝN PERNER,
SVIJANY 17

CHECK AVAILABILITY
FOR LARGER VOLUMES
724 247 277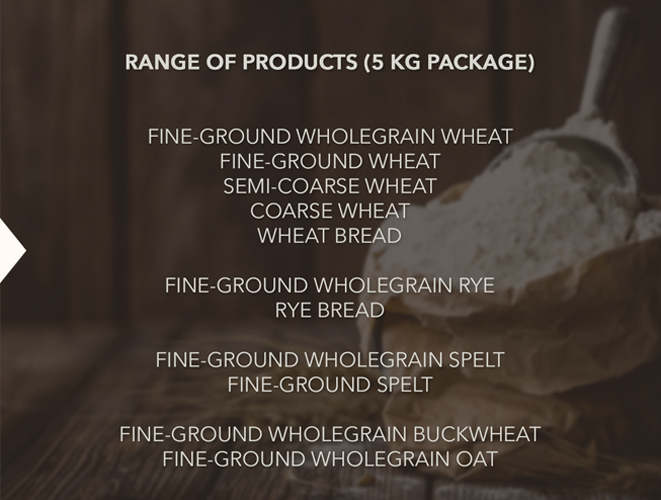 2018 FARMERS' MARKETS
AS OF 1 MAY, YOU CAN COME SEE US AT THE FARMERS' MARKETS AGAIN.
TURNOV
THE FIRST SATURDAY OF EVERY MONTH.
MNICHOVO HRADIŠTĚ
THE SECOND SATURDAY OF EVERY MONTH.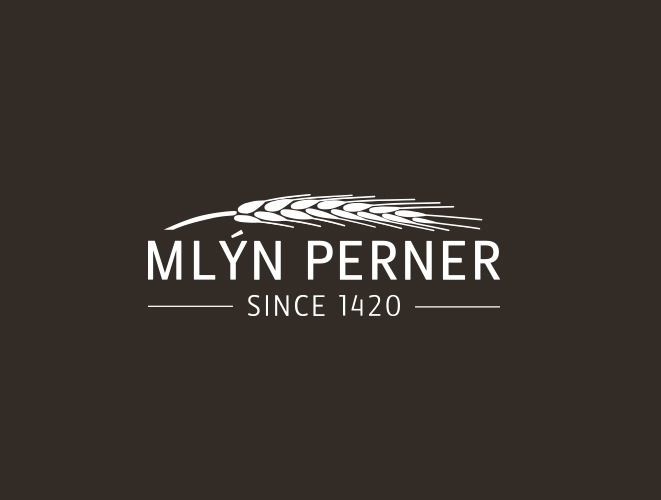 ALWAYS ONE STEP AHEAD
WE HAVE LAUNCHED A BRAND NEW PRODUCTION LINE CAPABLE OF CREATING EXCEPTIONALLY FINE WHOLEMEAL FLOUR WITH A MARKET-LEADING PARTICLE SIZE OF 160 MICROMETERS.
ABOUT THE MILL
PERNER GRIST MILL WAS ESTABLISHED IN 1420. DURING ITS HISTORY, IT HAS BEEN OWNED BY PROMINENT NOBLE FAMILIES.
AFTER ITS BOOM PERIOD IN THE FIRST REPUBLIC IN THE OWNERSHIP OF THE PERNER FAMILY, THE MILL WAS NATIONALISED IN 1948 BEFORE BEING RETURNED TO THE FAMILY IN RESTITUTION IN 1992.
FOLLOWING TWO DECADES OF DEVELOPMENT, THE PERNER FAMILY GRIST MILL NOW RANKS AMONG THE LARGEST DOMESTIC PRODUCERS OF FLOUR WITH THE MOST ADVANCED TECHNOLOGY AND LABORATORIES together with unique milling technology focusing on fine-ground wholegrain flours IN THE CZECH REPUBLIC. IT FOCUSES ON LOCAL GRAIN PRODUCERS AND TOP QUALITY PRODUCTS.
1420
THE HISTORY OF THE PERNER MILL DATES BACK TO THE 15th CENTURY. THE ORIGINAL MILL WAS ESTABLISHED IN 1420. ACCORDINGLY, ITS OWNERS INCLUDED, IN ADDITION TO MILLER FAMILIES, FAMOUS ARISTOCRATS SUCH AS THE WALDSTEINS, ŠLIKS AND VARTENBERGS.
19. ST.
IN THE 19th CENTURY, THE MILL WAS OWNED BY MICHAL MÁCHA – THE BROTHER OF POET KAREL HYNEK MÁCHA.
1933
IN 1933, THE MILL WAS BOUGHT BY BOHUMIL PERNER, THE SON OF A MILLER BASED IN MÁJOV NEAR CHRUDIM. TOGETHER WITH HIS WIFE, HE EXPANDED AND MODERNISED THE MILL IN THE 1930s.
BOHUMIL'S UNCLE JAN PERNER (1815-1845) WAS A PATRIOT AND A DEVELOPER OF RAILWAYS. JAN PERNER STUDIED AT THE TECHNICAL UNIVERSITY IN PRAGUE. AFTER BUILDING RAILWAYS IN RUSSIA, HE JOINED THE TEAM BUILDING EMPEROR FERDINAND'S NORTHERN RAILWAY IN 1837. HE ALSO PARTICIPATED IN EXTENSIVE RAIL WORK TO CONNECT VIENNA AND PRAGUE AND BECAME THE CHIEF ENGINEER OF THE STATE RAILWAYS. HIS DESIGN FOR THE PRAGUE – DRESDEN LINE WAS APPROVED BY THE EMPEROR IN 1842. JAN PERNER DIED IN 1845 UNDER TRAGIC CIRCUMSTANCES. TODAY, SEVERAL INTERCITY AND EUROCITY TRAINS CARRY HIS NAME, AS DO STREETS IN PRAGUE AND PARDUBICE, AS WELL AS THE FACULTY OF TRANSPORT OF PARDUBICE UNIVERSITY.
1992
IN 1992, BOHUMIL PERNER'S SONS, BOHUMIL AND JAN, RECEIVED THE MILL IN RESTITUTION, ALBEIT IN SERIOUS DISREPAIR. AT THAT TIME, THE MILL'S DAILY CAPACITY WAS 80 TONNES. THE PERNER BROTHERS REALISED THE NEED TO MODERNISE THE MILL, PURCHASE NEW MEANS OF TRANSPORTATION AND EQUIP THE LABORATORY. BOHUMIL MANAGED SALES AND FLOUR QUALITY, WHILE JAN TOOK CARE OF MACHINERY AND TECHNOLOGY.
1995
IN 1995, PROKOP PARDUBICE SUPPLIED NEW MILLING TECHNOLOGY WITH A DAILY CAPACITY OF 120 TONNES.
2007
IN 2007, DANIEL PERNER BECAME THE MAJORITY OWNER. HE HAS CONTINUED THE SUCCESSFUL FAMILY TRADITION, BENEFITTING FROM HIS EXPERIENCE GAINED DURING HIS LONG-TERM STAY AT GRIST MILLS IN SWITZERLAND, LUXEMBOURG AND GERMANY. IN SWITZERLAND, HE ALSO OBTAINED HIS CERTIFICATE OF APPRENTICESHIP IN THE FIELD AFTER COMPLETING THE SECONDARY SCHOOL OF FOOD TECHNOLOGY IN PARDUBICE.
2012
IN 2009-2012, AFTER EXTENSIVE MODERNISATION, THE MILL BECAME THE MOST MODERN CZECH GRIST MILL, PRODUCING OVER 145,000 TONNES OF FLOUR ANNUALLY. THIS IS THE EQUIVALENT OF ROUGHLY 14% OF THE INDUSTRIAL PRODUCTION OF WHEAT FLOUR IN THE CZECH REPUBLIC.
THE NEW TECHNOLOGY WAS SUPPLIED BY BÜHLER, A SWISS COMPANY; THE INSTALLATION ALONE COMPLIES WITH THE MOST DEMANDING REQUIREMENTS FOR QUALITY AND PRODUCTION SAFETY.
PRODUCTION IS DIVIDED INTO TWO SEPARATE MILLING PLANTS THAT CAN OPERATE EITHER INDEPENDENTLY OF EACH OTHER OR IN TANDEM. THE PERNER MILL IS THE SUPPLIER OF BULK FLOUR TO LEADING CZECH PRODUCERS OF BAKED AND CONFECTIONARY PRODUCTS. FLOUR IS ALSO SUPPLIED TO CUSTOMERS ABROAD.
2018
IN 2018 WE HAVE LAUNCHED A BRAND NEW MILL ESPECIALLY FOR VERY FINE MILLING OF WHOLEGRAIN FLOUR. THE TECHNOLOGY GIVES MLÝN PERNER A MAJOR MARKET ADVANTAGE, AS NONE OF OUR COMPETITORS WITHIN THE CZECH REPUBLIC IS ABLE TO MATCH OUR QUALITY AND PRODUCTION CAPACITY OF WHOLEGRAIN FLOUR.
Daniel Perner
MANAGING DIRECTOR
tel.: 485 177 106
Jan Perner
MANAGING DIRECTOR
TEL.: 485 177 106
This site uses cookies to ensure site functionality and traffic analysis. By using this site, you express your consent to the use of cookies.